My Visual Composer is the place available for Premium users where you manage your Visual Composer licenses and subscription. In order to open a support ticket, you will also need to log in on My Visual Composer.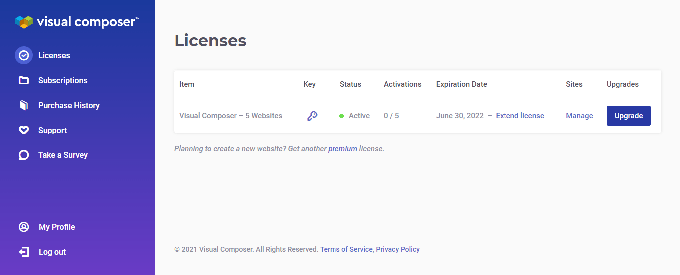 Create account
With the first Visual Composer Premium license purchase, we create an account for you automatically using the e-mail address you provide during the checkout. It is not possible to create a My Visual Composer account manually. On purchase, your login details will be sent to your email address.
Login account
To access your account, visit My Visual Composer and log in with your credentials. You can also access it straight from your WordPress Admin Panel under the Visual Composer Dashboard.
Licenses
The Licenses section lists all your Visual Composer Premium licenses. You can check all types of licenses here.
You can copy your license key right from the licenses section and paste it into the plugin activation field. For more information about Premium License Activation click here.
Subscription
The Subscription section lists all your active and expired subscriptions (purchases).
Once you purchase a Visual Composer Premium subscription, it is valid for a one-year period with automatic renewal or for a lifetime if you have purchased the lifetime deal. To keep your subscriptions and licenses up to date you don't have to do anything. We will inform you about your next charge one month prior.
You can update billing details for any subscription or cancel auto-renewal. Please note that canceling subscription auto-renewal will restrict you to access Visual Composer Hub once the license expires.
Update card
To change the credit card linked to the account:
Log in to My Visual Composer;
Navigate to the Subscription section;
Click on the Update Payment Method to change/update the credit card information;
Save the changes.
Note: If you purchased your license prior to the 22nd of January 2020 then please open a support ticket to request a payment method change.
Support
An active Premium license grants you access to premium support. For any further assistance with Visual Composer products or accounts, get in touch with our support representatives by opening a Support section in My Visual Composer.
Cancel subscription
We recommend keeping your website up to date and updating your plugins, themes, WordPress core to keep it secure. We are continuously developing our plugin - including new features and making sure that it's compatible with the latest WordPress version. If you do not update, it's possible that at one moment you won't be able to edit your website because of some conflict between installed plugins or WordPress.
If you still wish to cancel your subscription and stop receiving plugin updates you can cancel it in your account.
To cancel automatic license renewal:
Log in to my.visualcomposer.com with your credentials;
Navigate to the Subscription section;
And then click "Cancel Renewal";
And if you decide to update in the future a new license purchase will be required.